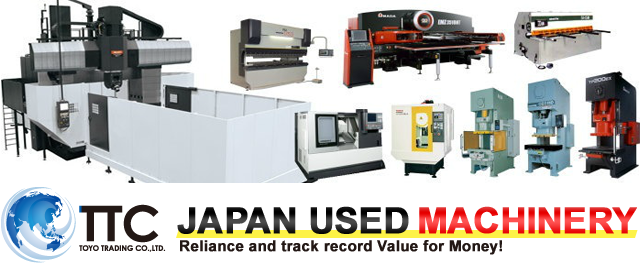 What's New / Secondhand Machine / September 2023
Most popular machine categories
Please feel free to contact us !!
Please feel free to "
contact us! "
whenever you are looking for any Used Machines, and when enquiring, please specify your detailed requirements for the machines which you are looking for, so that we can introduce some suitable machines to meet your needs. >
Who are we?

I am looking for...

Who are we? !
Our company is an export trading company of the Used / Secondhand Machine specialty.
TOYO TRADING is unique within the sale for Used machine". We are specializing in eco-friendly Used Machine recycling. Please come to us for any products relating to used machine. > continuation is here.

Since the establishment in 1975, we have been providing Used Machine / Secondhand Machine for our overseas customers. We consider custmer stisfaction our joy, and we always strive to provide better services and machine.
Especially, there are a lot of results in a Used Machine / Secondhand Machine. We have developed our business for over 36 years, and we are confident we will continue to grow in the years to come.

TOYO TRADING company We have many customers who repeatedly visit us. TOYO TRADING company is committed to serving the communities where we do business, and we provide our customers with innovative, hight-quality products and services.
Thank you for visiting our website.